Webinar "Cutout animation in science teaching"
In this webinar primary and secondary teachers learn how they can use cutout animations in science teaching to support students' learning.
Cutout animation is a form of stop-motion animation using flat characters, props and backgrounds cut from materials such as paper, card, stiff fabric or photographs. The props would be cut out and used as puppets for stop motion.
Visual representations have been reported to contribute to the development of students' learning of science. Moreover, the results of various studies confirm that learning gains are greater when students generate their own representations in general, as opposed to working with expert-generated representations. Student-generated representations have been used to evaluate students' understanding of scientific concepts, to make connections with prior knowledge, to identify conflicts among their ideas and to provide feedback about students' understanding. They can help students to become more active learners than just consumers of knowledge. Nevertheless, the science concept that is to be presented as an animation should be self-contained, dynamic in nature, and not too difficult to represent.
Please be aware of your time zone, the webinar is 16:30-17:30 CET (Berlin time).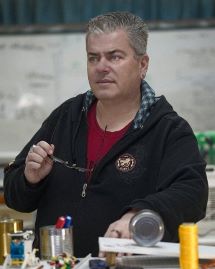 Astrinos Tsoutsoudakis is a science teacher in state upper secondary schools and a STEM trainer in Erasmus+ projects. He lives in Heraklion on Crete Island in Greece and his current job includes supporting primary and secondary school teachers in their experimental science teaching. He is also the moderator of the Science on Stage Greece Facebook page and was one of the authors of the publication Coding in STEM Education.