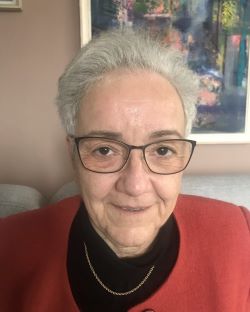 Profile
Corina Toma is a physics teacher at the "TiberiuPopoviciu" Computer Science High School in Cluj-Napoca, Romania.
She might be retired, but she decided to continue working in the same school with hard-working and enthused students interested in STEM subjects. For her, teaching is a part of herself. 
More about Corina Toma
What does it mean to you to be a teacher?
I really think that teachers have the most beautiful profession because they are the ones who open children's minds to what surrounds them, lead them to the light of knowledge, and as a reward, teachers are given the opportunity to keep their minds young and curious.
Also, it gives me the feeling that I am useful to my students and I feel happy whenever their eyes tell me that what I explained to them was understood. Furthermore, it means learning about scientific innovations, applying active teaching methods, and finally, learning from my students.
Describe Science on Stage in three words.
Teachers teach teachers
How did you get involved with Science on Stage?
In 2011 I participated in the European Science on Stage festival in Copenhagen with the Romanian delegates. This was the starting point of many projects and festivals with the great Science on Stage family. After the festival, I received an email invitation to apply for the project ICT in Science Teaching. I immediately liked the idea of projects in which you can find out how and what is being learned in other European countries that is why I took part in five projects of this kind. Together with a colleague and two of my students, we took part in the European Code League and won the first prize in 2021.