Primary School, Secondary School
Past Projects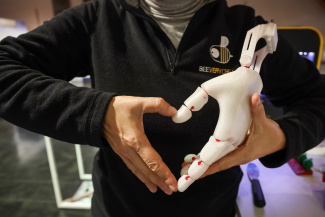 At Science on Stage, we have been promoting STEM education in Europe for more than 20 years. This page gives you an overview of our past projects and activities.
If you would like to find out more, we look forward to hearing from you!
Get an overview of the information on this page:
European STEM League
How to enthuse students for Science, Technology, Engineering and Maths? Eleven school teams from Czech Republic, Germany, Georgia, Italy, Romania, Spain, Switzerland and Turkey showed how at the international European STEM League finals on 20-21 October 2017 at the German Football Museum in Dortmund.
Proudly supported by SAP and the SAP Charitable Fund, Science on Stage invited STEM teachers to implement experiments about 'Football in Science Teaching' with their classes and document the results in a creative way. At the final the best teams were now competing with their projects for the title European STEM Champion.
We heartily congratulate the teams 'Blocks' and 'GeOMagnus' from Romania (1. Place), 'MA12-Energy' from Germany (2. Place) and 'Liceo Ilaria Alpi' from Italy (3. Place) on their big success!
Our finalists and European STEM Champions were:
Nino Abesadze and Pavle Rukhaia, Tbilisi, Georgia
Selçuk Yusuf Arslan and Sabri Murat Oruncak, Ankara, Turkey
Marta Ferrater and Xavier Fenosa, Castelldefels / Barcelona, Spain
Mihaela Giurgea, Corina Toma and Felicia Vălean, Cluj Napoca, Romania
Tibor Gyalog and Nicole Traber, Basel / Münchenstein, Switzerland
Stefan Melzer and Petra Borchmann, Königs Wusterhausen, Germany
Miguel Angel Queiruga Dios and Noelia Velasco Pérez, Burgos, Spain
Jitka Soukupová and Eva Sůvová, Stribro, Czech Republic
Catalina Stanca and Mihaela Ciapa, Galati, Romania
Heiko Stangl and Monika Krämer, Heidelberg, Germany
Romina Tanzi and Matilde D'Alò, Rutigliano, Italy
Find more details on this competition here! 
Teachers + Scientists
Science on Stage Germany initiated a project to build up long-lasting cooperation between STEM teachers and scientists. Natural scientists and local science teachers did research together on current scientific topics.
The teachers transferred the knowledge into school lessons. You can find more information about this project here. 
Football in Science Teaching
Football is fascinating and attracting to a lot of students. Also football offers the chance to cover a variety of interdisciplinary themes: from the game itself to the biological and health' aspects of the players to the environmental issues when organising a big international sports event like the European Football Championship. 
20 teachers from 15 countries worked together on this international project on football in science teaching. The results are now published in a brochure coinciding with the European Football Championship 2016 in France. Find further information about the project here. 
Smartphones in Science Teaching
In most European secondary schools, students are not allowed to use their smartphones for good reason: it hampers personal communication in school. However, simply ignoring their presence is not a good solution.
They can be a big chance for STEM classes. 20 teachers from 14 European countries developed eleven teaching units that show how smartphones and apps can be used for. Learn more about the project here. 
ICT in Science Teaching
Simulations for environmental technologies, bioinformatics or mechanics: The free teaching material iStage - ICT in science teaching shows how to connect information and communication technologies (ICT) with science education.
In this project teachers from all over Europe give practical examples of how to integrate programs like Java, Scratch or Tracker in biology, physics or astronomy classes.
Find more about it here.