Lantern Moon: Doing research on bicycles in primary school with engineer Markus Riese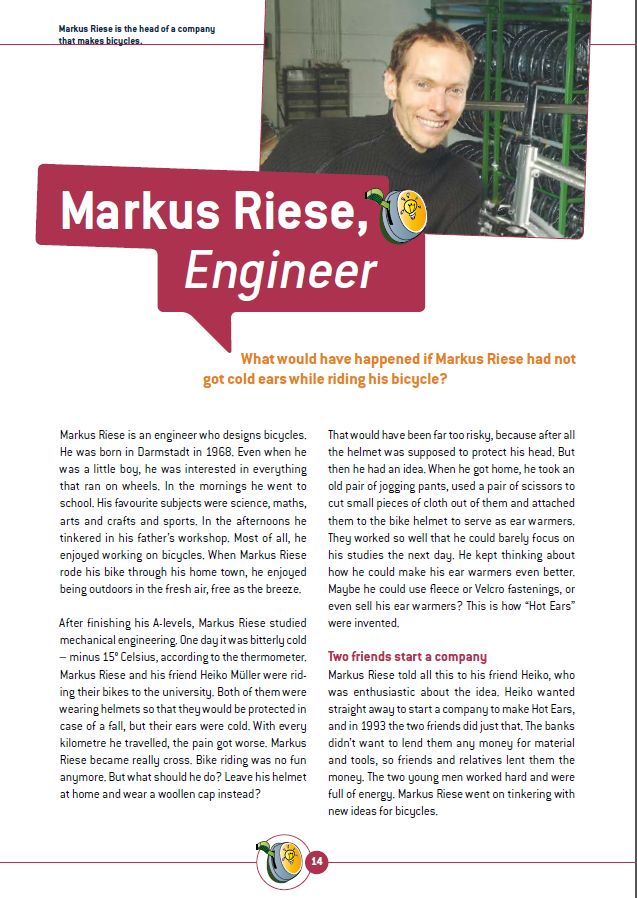 Overview
Markus Riese is an engineer and he is especially interested in bicycles. Even as a child he was fascinated by two-wheelers and spent hours and hours to puzzle on them. Today he is the inventor of ear warmers attached to bike helmets and of a special folding bicycle. In this unit he presents exciting questions and experiments on bicycles for primary students.
This unit is taken from the brochure "Latern Moon and Hot Ears". Science teachers from Austria, Germany and Italy worked out nine biographical texts for primary school students about contemporary scientists and engineers.

The texts tell how they started out in their professions and sometimes which curious experiences were linked to it. Each chapter includes fun and easy experiments and proposals for projects, such as making a rotating LED disc or a walnut candle.
Teaching Materials
Lantern Moon: The engineer Markus Riese and his bicycle
Download File
Laternenmond: In der Grundschule rund ums Fahrrad forschen mit Ingenieur Markus Riese
Download File
Phone: +49 30 400067-42
Mail: press@science-on-stage.eu