Science on Stage Festival 2024
The 13th European Science on Stage festival will take place from 12-15 August 2024 in Turku, Finland.
450 primary and secondary school teachers from all over Europe share their most creative STEM ideas at stands, in workshops, and in highlight sessions. Participants will be chosen through competitive national events in over 30 countries.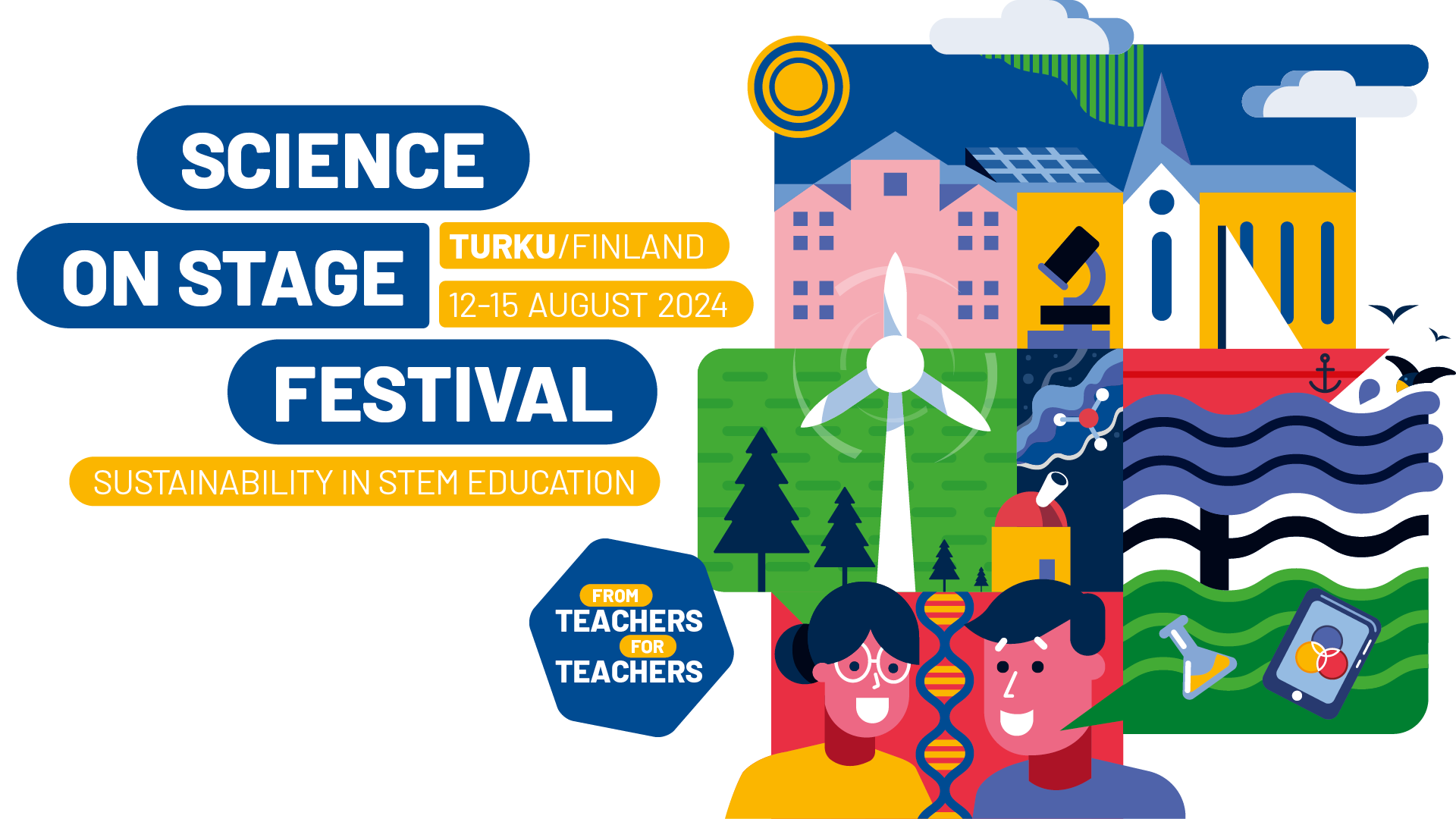 Get an overview of the information on this page: 
Guiding Themes 
All projects represent inquiry-based learning approaches.
STEM for the Youngest: Projects to promote STEM in elementary school for kids, 10 years or younger
STEM Education for Sustainable Development: Projects that contributes to the achievement of the 17 Sustainable Development Goals
Digital Technologies in STEM Education: Projects on programming, digital education, ICT, Big Data, artificial intelligence, virtual reality, etc.
Diversity in STEM Teaching: Projects that reflect the heterogeneity and diversity of our society, e.g. teaching methods that engage students with different learning levels or different cultural backgrounds.)
STEAM in Education: Projects combining natural science with other disciplines, e.g. science, technology, engineering or mathematics with arts, music, sports, history, etc.
Low-Cost Experiments in STEM Education: Projects that are low-cost to implement
Joint Projects: Projects developed collaboratively by teachers who have met at one of the past Science on Stage events (e.g., festival, webinar, professional development, network meeting, project)
STEM for Teachers in Training: Projects that have been developed during pre-service teacher training or teacher traineeship
A glimpse into a festival
Would you like to know what to expect at a festival? Here you can get a sneak peek:
Programme 
Fair: The fair is the main element of the festival, where all the participants show their projects and experiments at stands
Workshops: Workshops are interactive hands-on sessions from teachers for teachers
Highlight Sessions: At the highlight sessions, selected participants present their ideas on stage
Forum: Exhibitions made by partners, e. g. companies, organisations, foundations
Social Events: Throughout the festival there are networking activities, excursions, evening receptions
Application criteria and jury
The teachers taking part in our festival were selected by the National Steering Committee in their country. Those teachers present their project in a stand in the fair.
An ideal Science on Stage project: 
is from teachers for teachers, 
promotes inquiry-based learning, 
has a high relevance to everyday life 
is easy to implement in everyday school life and can be financed with reasonable means
promotes education for sustainable development (ESD)
Teachers who present additionally their projects in a workshop were selected by the international festival jury, which consisted of science teachers, educators or representatives from ministries or universities. All board members of Science on Stage Europe were also involved.
Joint Projects
You are a former Science on Stage festival participant and developed a project with a teacher from another country? You want to share it with us at the next European Science on Stage festival? Then apply with your 'joint project'!

Besides the regular national STEM teacher delegations, there are several additional places at the European Science on Stage festivals for teachers offering internationally developed projects - the so-called 'Joint Projects'.
The festival committee decides upon your application and your participation in the event. The project should be:
from teachers from two different countries that decided to develop a project together and of whom at least one participated at a European Science on Stage festival
for the evaluation obvious in its development or its progress in the course of time
Download the application forms Part I and Part II.
Application deadline: 15 September 2023.