From our countries 30.08.2021
Flying High in Prague 2022!
We asked the teachers that will present a Joint Project at the upcoming European Science on Stage festival 2022 to tell us about their experiences. This blog post was written by Jane Shimizu from Ireland and Audrey Boyd from Northern Ireland. 
Audrey and I were both selected for the European Science on Stage festival 2019 in Cascais in Portugal. It was here that we met for the first time.  We are both extremely interested in science and we are dedicated to encouraging our young students to take a practical interest in STEM and in the world around us. 
It was in Cascais that we realised how much we have in common as teachers, and we became friends. Our projects in 2019 were not particularly similar – my project focused on STEM Exploration through Rocket/Projectile Launching, while Audrey's focused on Biometrics. However, both projects centered on the idea that our students become interested in STEM when they can focus on a theme in which they show interest. Guided discovery is the way forward!
Although both living on the island of Ireland, we represent two entirely different countries. Traditionally cross border sharing of educational ideas is a rarity, and so we were both very excited to have made a contact with another like-minded teacher.  We were thrilled that we could share our teaching ideas on opposite sides of the border. 
Working with a colleague from across the border is fantastic. We are committed, enthusiastic and innovative teachers who go the extra mile to ensure we raise Science Capital and deliver high-quality teaching and learning. We use our initiative to access the best possible teaching and learning opportunities.
Through sharing best practices across the border we enhance each other's delivery of STEM within our schools and wider communities. We have also found that our joint project is useful to dissolve any legacy misunderstandings regarding "The Troubles" that have existed between our two countries.
The pupil's engagement in STEM has been positively impacted as they are working on a project with a wider audience across the border. They take pride in their work and want to showcase their best efforts with their peers in each other's school. The pupils have been encouraged by their peers to develop and deeper knowledge and understanding of Flight. They have shared ideas and encouraged each other to develop and extend their scientific investigative skills and knowledge.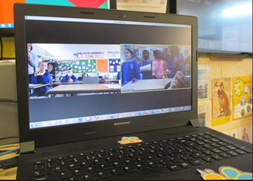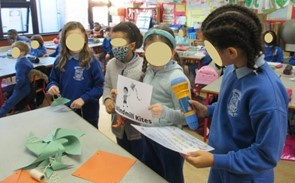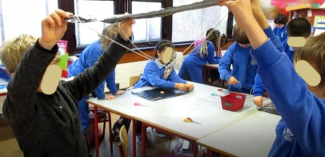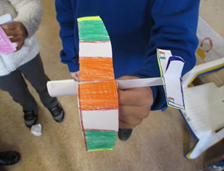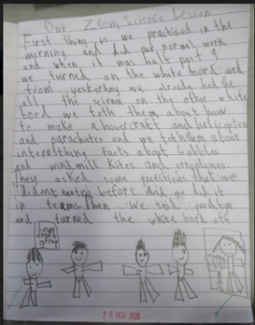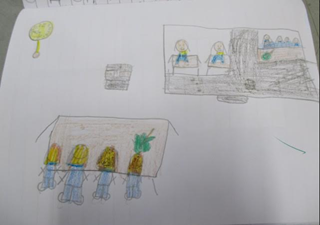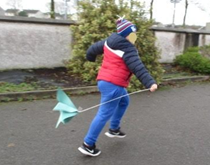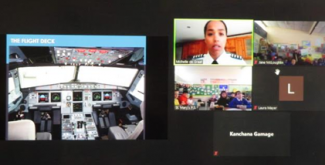 When deciding on a joint project, we found that both of us have an interest in all kinds of flights.
This seemed like a wonderful place to start working together. Due to the impact of Covid restrictions we were unfortunately not able to visit each other's schools and classes.  We did, however, have the opportunity to connect via Zoom and Google Classrooms. This was a novel experience for both of us and for the students with whom we work.
This past school year we have shared resources and local, external contacts that our cross-border colleagues would not have had access to. I connected St. Mary's with the Aviatrix Project and the pupils actively participated in a Zoom lesson hosted by a pilot and a flight instructor. The impact of the Aviatrix lesson on little minds was outstanding, aspirations to become involved in the flight industry and connect with real-life STEM ambassadors were fabulous.
Audrey connected Scoil Chaitríona Junior with a series of lessons from Bombardier Inc. Belfast. The Bombardier project was delivered over 5 Google Meet Sessions and we enjoyed presentations and practical activities linked to our topic of Flight. The border-crossing development has injected enthusiasm into our Flight topic for the teachers, pupils, and wider school community. It has raised standards in STEM and we are so proud of what has been achieved.
The border-crossing collaboration project has had a positive impact on the teaching and learning in both schools and their wider communities. It has raised Science Capital. It has enhanced STEM provision. The wider audience has injected fun, enthusiasm, and interest into our curriculum and STEM lessons.
It has also developed friendships and connections. Both teachers have enjoyed chatting on many occasions, sharing best practices, enjoyed hearing about teaching experiences, celebrating family occasions, and getting to know each other as friends and colleagues. We would thoroughly recommend a border-crossing collaboration project!
After the Science on Stage festival 2022 has ended Audrey and I hope to continue working together far into the future.  We have developed a friendship and will support each other. We find we often get in contact with each other to ask for help and advice. We have similar roles in school, and it is nice to ask for ideas when planning whole school events such as Science Week. We have connected via Zoom and Google Classrooms so we will use these platforms to maintain connections.
We hope to create an eTwinning STEM Project linking to our Flight Project. We would invite other teachers across Europe to take part in this collaborative Flight project and work collegially to raise the profile of STEM through Flight and raise standards in pupil outcomes in a fun way. This would impact the legacy of our project, Flight... up, up and away!
We are so excited to have the opportunity to showcase our joint project in Prague 2022 and we look forward to meeting other like-minded teachers from all over Europe in the very near future!