From our countries 15.11.2023
#sons2024: Portugese projects selected
On the 4th and 5th of November 2023, the National Science on Stage 2023 Festival, a selection event for the International Science on Stage 2024 Festival, took place at AE Frei Gonçalo de Azevedo, in São Domingos de Rana, Cascais.
The opening session was led by Rosa Doran (President of NUCLIO) and Isabel Borges (Coordinator of Science on Stage Portugal) and included the participation of David Sousa (Director of the Frei Gonçalo de Azevedo School Group), Ana Luísa Santos (Head division of Secondary Education, representing the General Directorate of Education), David Featonby (Vice-chair of Science on Stage Europe) and Rute Oliveira (teacher at Nobel Algarve British International School – who was selected by Science on Stage Europe to participate in the SonS 2024 with a Joint Project).
At the fair, 26 projects were presented by teachers from the most diverse regions of our country. The projects, all full of quality and creativity, revealed the work and dedication of the participating teachers who followed innovative methodologies in an inquiry-based approach.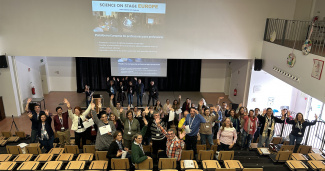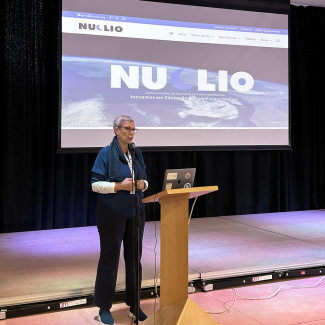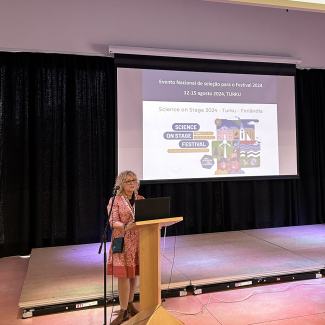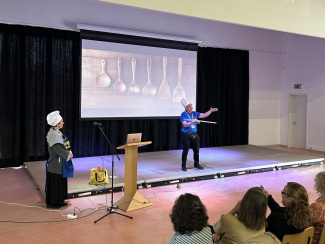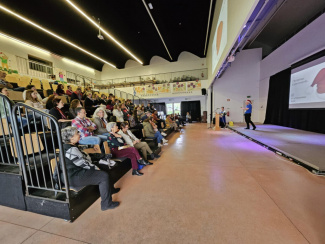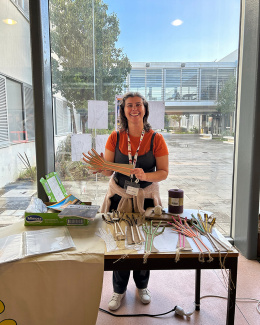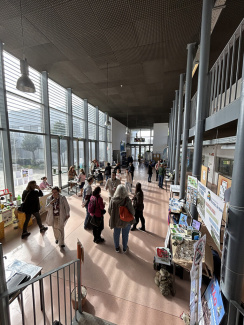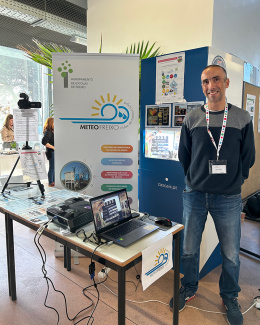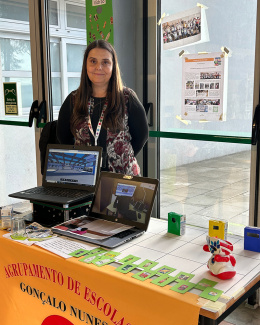 After visiting the fair stands to learn more about each project in detail, the Festival jury (composed of Ana Costa, David Featonby, Isabel Borges, Leonor Cabral, Liliana Fernandes, Nuno Charneca, Paula Furtado, Rute Oliveira, and Teresa Paiva) met to make the selection. Science on Stage Europe only allows each member country to take a maximum number of projects to the International Festival and, in the case of Portugal, this year, that number is seven, so the jury's decision was not easy at all!
On Sunday, November 5th, the fair was open during the morning to teachers and students from schools in the region. 
At the end of the morning, participation diplomas were handed out and the Portuguese delegation for the European Science on Stage 2024 Festival was finally revealed. There were seven selected projects, and they are as follows:
➢ Casa Iluminada: the secrets of the switch – by Ângela Costa and Isabel Fonseca
➢ EcoKids Teach AI – by Cláudia Meirinhos
➢ From Waist to Taste: Can fruit peel revolutionize our sustainable food future? – by Ilda Moreira, Maria Henriques, Sandra Valente and Patrícia Queirós
➢ Back to the Future – by José Rodrigues, Luís Carreiró, and Cristina Carreiró
➢ Sounds and lights of Parque D. Carlos I and Mata Rainha Dona Leonor: a sensory experiment – by Michel Pimenta and Maria Vidigal
➢ Recicl@PET – by Nuno Spear
➢ Foot by foot – Mónica Mendes and Maria Henriques
To learn more about each project, see the posters at the Virtual Fair.