Lantern Moon: Electricity in primary school with physicist Otto Lührs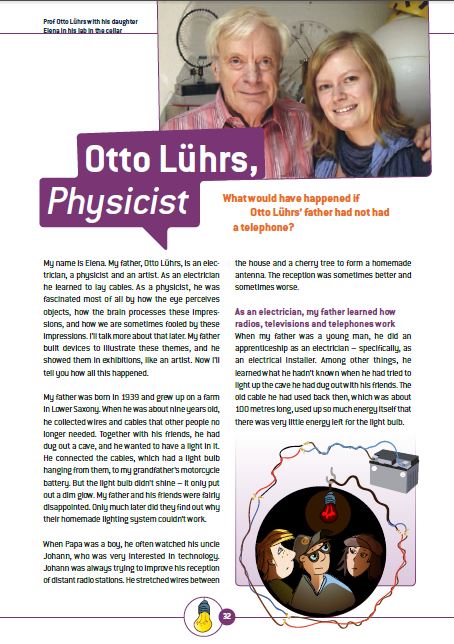 Overview
Everyone who swings a pocket lamp in fast circles can oberserve this phenomenon: Even though the light of the lamp only comes from one point you can see a circular line of light. But how can that be?
Otto Lührs is a physicist and electrician. As a young boy he was curious about how radio, television and telephone work. Today he is committed at the Technic Museum in Berlin. There he is showing his own inventions to a broad audience in order to explain physical phenomena.
In this unit he presents on of his inventions: Students are building a disc rotography with light-emitting diodes on the record. The students observe what happens, when the record moves quickly and also learn about the components of an electric system.
This unit is taken from "Latern Moon and Hot Ears". Science teachers from Austria, Germany and Italy worked out nine biographical texts for primary school students about contemporary scientists and engineers.

The texts tell how they started out in their professions and sometimes which curious experiences were linked to it. Each chapter includes fun and easy experiments and proposals for projects, such as making a rotating LED disc or a walnut candle.
Teaching Materials
Laternenmond: Elektrizität in der Grundschule mit Physiker Otto Lührs
Download File
Lantern Moon: Electricity in primary school with physicist Otto Lührs
Download File
Phone: +49 30 400067-42
Mail: press@science-on-stage.eu