Science on Stage North Macedonia
The Center for Education and Innovative Learning – STEMLab is located in Tetovo, North Macedonia. STEMLab was registered in 16 May 2018. It is a non-governmental which primary objective is the improvement of teachers' capacities and the promotion of STEM education, as a mechanism for sustainable development.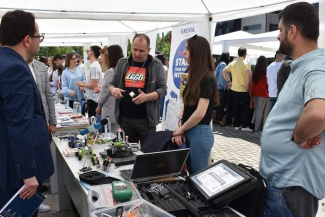 Science on Stage North Macedonia is focused on developing innovative education models, improving the quality of the educational process through teacher education and the promotion of STEM at all levels of education. Members of NSC are primary and secondary school teachers, university professors, advisers, former higher education accreditation board members and teacher trainers from the Republic of North Macedonia and abroad. They have experience in working in different environments with cultural diversity, different age groups and different languages, people with different professions, and life-long experience.
The activities in which the teachers will be involved are online meetings (in the initial phase), workshops, training, fairs, forums, and conferences, where the good practices of STEM education will be presented.
National Steering Committee
Science on Stage North Macedonia on Social Media