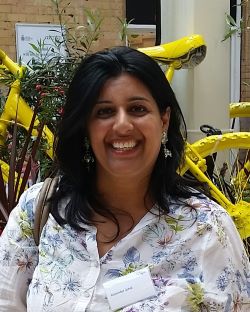 Kulvinder Kaur Johal is a primary teacher, who spent over 25 years at a large multicultural school in East London. As a primary teacher she taught all the subjects as part of the English national Curriculum and was the science subject leader at her school. Kulvinder was awarded 'Primary Science Teacher of the Year' in 2012 by the Primary Science Teaching Trust.  
She now works full time for the PSTT as a Regional Mentor, supporting primary teachers across London and the South East of England.  
She became involved with Science on Stage when the 'Growing Music 'project was chosen to form part of the UK delegation. Kulvinder presented at Science on Stage London 2015 with her colleague, Carol Sampey. 
After that she was invited to join the National Steering Committee. Since then, Kulvinder has been involved with choosing and supporting the delegation for Debrecen and Cascais. She has recently been involved with several Science on Stage primary webinars and working with the European Code League Jury.  
Memo
What does being a teacher mean to you? 
Being a teacher means being able to provide an exciting, energising, educational and empowering environment, where the pupils and now the adults can develop and grow as human beings.  For them to be able to grow and develop and I am able to watch and be a part of that journey.  For me, it's the best job in the world. 
What does Science on Stage mean to - in 3 words? 
Collaboration, connections, excitement 
Why should teachers participate in Science on Stage ? 
You should experience Science on Stage so you can feel the sense of European community, unity and the wealth of resources, ideas and like-minded thinkers gathered in one space. So much energy and enthusiasm on display! 
Other involvement
In a wider role, she has been a member of the ASE Primary Science Committee and is currently part of the Science on Stage steering committee. Kulvinder is also part of the Royal Society Partnership Grant committee. She has written for the Times Educational Supplement, ASE Primary Science magazine and also helps judge the Teach Primary resource awards. Kulvinder has qualified for a Fellowship of the Chartered College of Teaching (FCCT), SLE qualification and is a Chartered Science Teacher (CSciTeach). 
Press articles about Kulvinder Kaur Johal 
https://explorify.wellcome.ac.uk/blog/how-to-improve-teacher-confidence 
https://www.lbbd.gov.uk/news/boroughs-young-people-develop-science-skills-in-national-scheme 
https://www.tes.com/news/why-one-charity-sending-free-science-kits-every-school-country  
https://www.spacetoearthchallenge.org.uk/northbury-primary-space2earth-challenge/ 
https://pstt.org.uk/who-we-are/our-team/staff/Kulvinder-Johal