From our countries 16.04.2021
Jitka Houfkova talks about her fondest memories
This blog post was written by Jitka Houfkova, NSC of Science on Stage Czech Republic and board member of Science on Stage Europe
When I was asked to write a blog post about what Science on Stage means to me, I immediately remember the very first Physics on Stage, that took part at CERN in year 2000.
I was a new teacher and was incredibly inspired from this festival. So many ideas and enthusiasm all in one place! It felt almost unreal for me and I knew right there, that it would have an impact on my development as a teacher.
Among other things, I found like-minded people who shared my interest in doing simple physics experiments with younger children. Since then there has been an unstoppable shift of my interest from modern physics taught in high school (at that time, I was even a webmaster of The Summer Program for High School Teachers at CERN) to simple, hands on, experiments for young children. It was stimulating and sometimes even cute to see during PoS1, how not only fellow teachers but also famous physicists were interested in simple experiments and were seriously thinking about them. In the following years, I considered PoS1 my best conference experience.
Little did I know that PoS would transform into Science on STage and I would have the opportunity to play my part in its further development. After I came back from my maternity leave in 2010, I became a member of the National Steering Committee in the Czech Republic, and prepared the national event in my country.  I have participated in every SonS international festival since 2011. In 2015 I was elected to become a board member of SonS EU. This way I had an even better opportunity to participate in the development of SonS.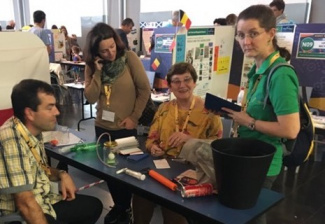 And what does SonS mean for me nowadays? Right now a lot of work in preparation for the next international festival that will take place in my country in March 2022.
But more importantly, it means infinite inspiration and strong friendships with teachers across all of Europe. All that is symbolized by this photo. Three of those teachers are my dear friends thanks to SonS. They had never seen each other before and met randomly at a stand at the SonS 2019 festival in Portugal.
They are from three different countries and teach different subjects (all primary subjects, math, physics and biology) at different types of schools (primary school, secondary school and university). Together they discussed how to use the experiment shown by one of them in their different subjects and with their students of various ages. True teachers cross border cooperation!
I feel privileged to be a member of the wide SonS family. Happy Birthday!