From our countries 31.10.2022
Workshop: The Good, the Bad and the Complex
On Saturday, October 22, 2022, Amgen Biotech Experience Ireland hosted a Food & Biotech workshop at University College Dublin, called 'the Good, the Bad and the Complex' for Irish biology and chemistry teachers. The professional development workshop was developed and delivered by Science on Stage Joint Project partners Declan Cathcart (SonS IRL) and Andrea van Bruggen-van der Lugt (SonS NL).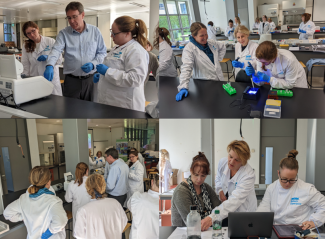 Declan (Biology teacher at Temple Carrig School, Greystones, and Science Education lecturer at University College Dublin) and Andrea (Chemistry teacher at Willem van Oranje College, Waalwijk and Educational Developer at U-Talent, Utrecht University) met each other at the European Science on Stage Festival 2019 in Cascais (Portugal) and began collaboration on a joint project in early 2021. The result is a teaching and learning module with several hands-on experiments involving molecular biology tools and procedures. The activities were piloted by Declan and Andrea in October 2021 at a two-day workshop for secondary students at U-Talent in Utrecht University. In March 2022, the module was presented to our European science teacher colleagues at the international Science on Stage festival in Prague.
In October of this year, Andrea traveled to Ireland to co-deliver the teacher training workshop. Over the course of a full day of activities, 12 secondary school science teachers developed their microbiology skills in a lactic acid bacteria lab activity and experienced PCR technology for the detection of the pathogen Shiga-toxin-producing E.coli (STEC). Protein 3D structure analysis of the Shiga toxin was performed, and Shiga toxins were detected in bioinformatics exercises using mass spectra data.
Participating teachers were excited to experience biotechnology in hands-on activities and bio-informatics exercises. Feedback from the teachers has been very positive and they intended to pilot these activities in their own schools.   
The cooperation will be continued next year. Declan and Andrea are very much looking forward to sharing their ideas, experiences, and resources with Dutch science teacher colleagues at the DNA Lab Day organised by Amgen Biotech Experience Netherlands on April 6, 2023.